testimonial from a reknown MD plastic surgon in Ipanema, Rio, Brésil, MAY 2019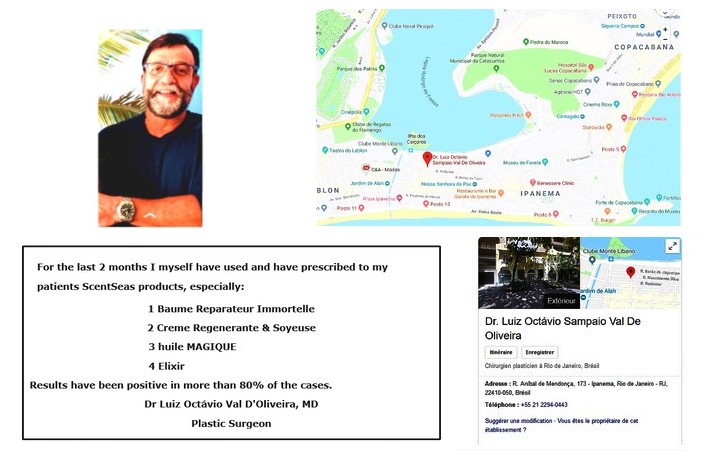 In the American market of aromatherapists (prestigious cosmetic companies like Kiels and l'Occitane en Provence have introduced Corsican immortelle in tiny proportion in their formulas),
one can purchase one dram of pure Corsican immortelle essential oil for a minimum price of $85.
We believe we can offer, even to the most demanding customers in the USA, our wide range of skincare products with an irresistible price range.
We only use natural and precious ingredients and our products are, of course, cruelty free, safe for the environment, organic and totally made in France.
We also carry a warranty of quality with the strictest controls and regulations.
We are confident and proud that when you test a few of our products, you will immediately see their benefits on your skin.
Let's explain how the main active ingredients benefit to your skin active ingredient
immortelle essential oil : This enchanting essence is wild harvested in the high altitude rocky cliffs of the Corsican countryside.
known alternatively as Everlasting flower, Sun Gold oil, this-our oil is steam distilled from the precious petals of the Helichrysum italicum flower.
The chemistry of this high altitude soil makes the oil more beneficial than any other immortelle variety and distillation.
it is a powerful anti-hematoma, is active on healing wounds, scars, stretch marks, rosacea and calms the symptoms of dermatitis. It is a natural way to lessen the presence of fine lines and wrinkles

Immortelle Essential Oil is one of the top performing oils in the Aromatic Assembly, especially for skin care. However, it is not just rarity that makes true, Helichrysum italicum, Immortelle Essential Oil so in demand! This gem has potent restorative properties that dramatically improve the appearance of skin imperfections.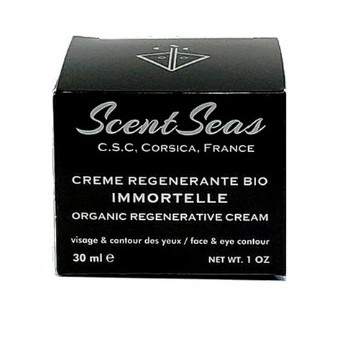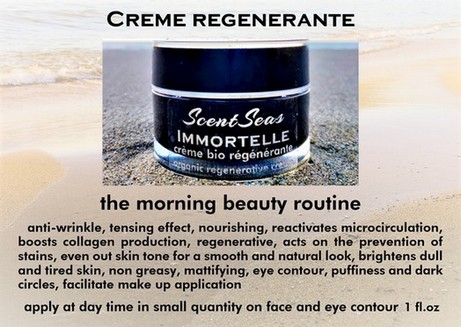 Crème soyeuse régénérante à l'Immortelle corse
organic Silky regenerating cream
with Corsican Immortelle
• activates the microcirculation
• nourishing and regenerative
• leaves no greasy film
• healing and soothing
Apply a thin layer on the face and the eye area.
Your skin will be truly transformed
crème régénérante et soyeuse immortelle BIO
soin contour des yeux et visage bio
Ajouter
baume réparateur à l'immortelle corse bio
repair and regenerative organic immortelle balm
This balm is enriched with natural tensor, moisturizing, nourishing and decongestant ingredients.

• dark circles, puffiness, facial signs of fatigue are dimmed for optimal tolerance
of the contour of the eye.
Help to regenerate and heal damaged hands and body parts.
• The application of our regenerating and rejuvenating balm will have on your skin exceptional anti-wrinkle effect. The Immortelle is good to improve your acne and may reduce rosacea.
The balm contains 100% active ingredients; it is a real beauty elixir to apply preferably in the evening on the face and after showering or bathing on the body, on a damp skin. It contains no preservatives or colouring.
Your skin will be truly transformed.
baume réparateur immortelle
soin contour des yeux, visage, régénérant, cernes, plaies 30 ml
Ajouter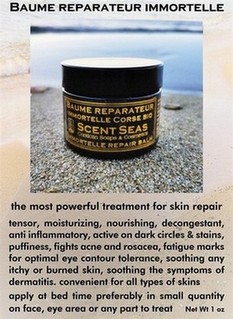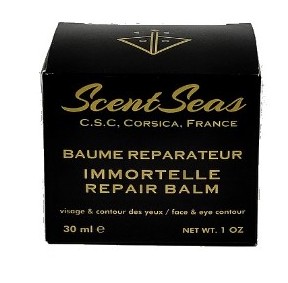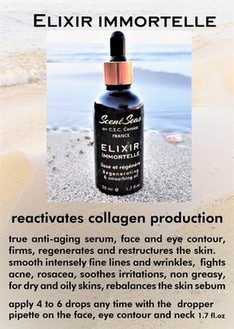 Elixir Immortelle Corse bio
anti-aging serum, face and eye area
smoothes intensely,

firms, rejuvenates, carefully restructures, nourishes

exceptional efficiency on fine lines around the eyes, heals, penetrates instantly, helps reducing bruises, bumps

may help in soothing symptoms due to dermatosis, naturally protects from the sun with an indice of 5.

help soothing burns, acne, redness and irritation,

excellent on any type of skin, excellent after shave, eye makeup remover
Apply a few drops on your fingers, and massage thoroughly on your face and eye area. It penetrates quickly. You can use the serum as a treatment by itself or adding for more benefits in one of our cream. Apply on a clean face in the morning or in the evening.

You can also apply on wound, scar, oedema directly.
Elixir immortelle
soin contour des yeux et viesage, 50 ml

Ajouter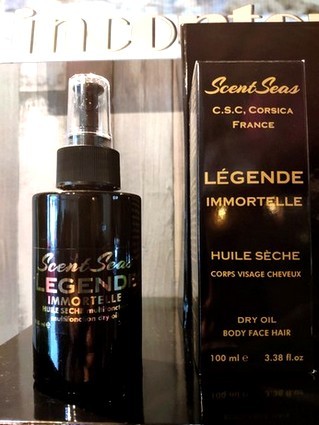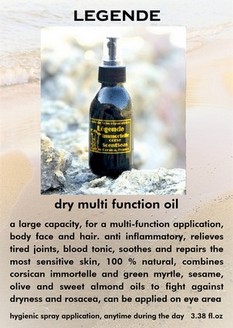 Légende immortelle corse
nouvelle formule, nouvelle présenation luxe 100 ml

Ajouter
skin repair oil, for body and face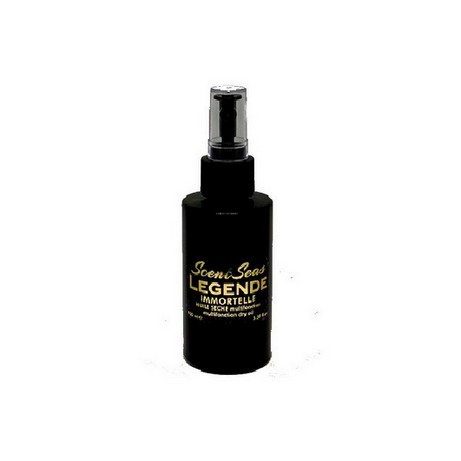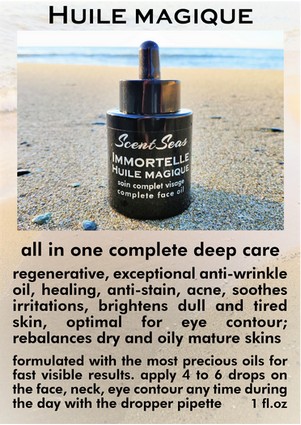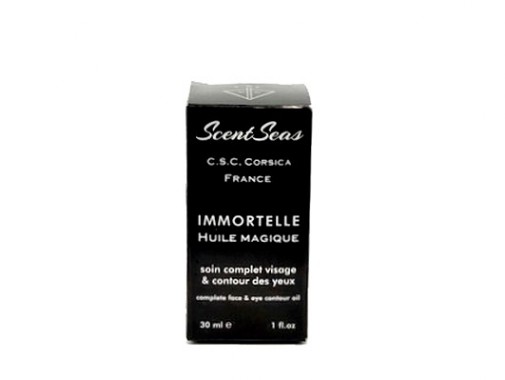 "Fleurs de peau", tonique à l'immortelle
nouvelle formule
Ajouter
Toner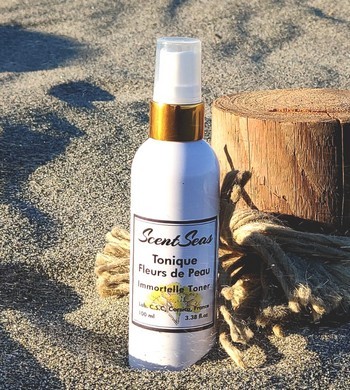 nettoyant visage Immortelle 100 ml
Ajouter
cleanser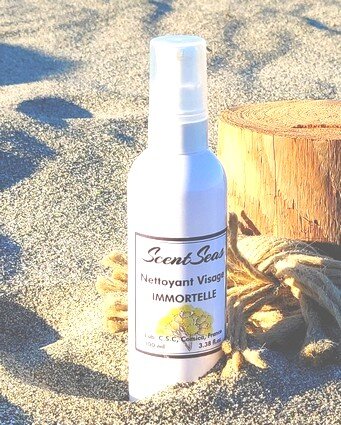 eau florale immortelle
nouvelle présentation
Ajouter
organic floral water